As you read this posts, I'm probably still in the hospital undergoing an out-patient procedure. Yes, I'm having surgery and will be laid-up for about a week. But that's OK – I'm prepared!
I've been freezer cooking.
With this method of cooking, you'll spend one weekend preparing a month's worth of dinners and then you'll store them in the freezer. At night, you'll take out the next day's dinner and let it thaw in the fridge. When your family is ready to eat, just pop that night's dinner into the oven.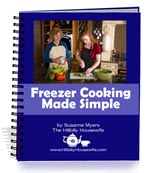 I got my hands on Freezer Cooking Made Simple, a new ebook from The Hillbilly Housewife. Two words: LOVE IT!
Not only are the recipes super easy and frugal, but Susanne has given us everything we need to plan and make freezer meals. She took the time to document how to do it all: prepare, freeze, label, etc. She even provided lables to make it easy for anyone to cook the meal!
For the week I'm out-of-commission, my husband will be able to go to the freezer, grab a meal, read the directions and cook! How awesome is that???
Susanne has covered it all:
How to make your first few freezer meals and what you need to get started.
What foods will freeze well and what foods you should stay away from in your freezer cooking.
Strategies for getting these meals prepared quickly and most importantly safely.
We've tested some of the recipes already, and they were a hit. Plus, I just loved the tips and tricks that Susanne shares in the ebook.
Out of the Freezer, Into the Oven – Dinner's Done! Even if you don't have to prepare for surgery,  you'll love Freezer Cooking Made Simple. It's the perfect e-cookbook for busy families that want to eat healthy and frugally!
For more menu planning tips and tricks, you have to visit Laura at orgjunkie.com!