While the boys are napping, I've FINALLY been able to go through my Google Reader to catch-up on blog posts for the past two weeks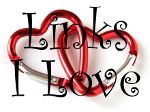 – yikes! Over 1,000 unread! Between Little Dude in the hospital with pneumonia (he's better now – thanks!) and my surgery, I just haven't had the time to blog hop. Now that I got my fix I want to share with you some of my faves.
How about some natural skin care recipes from my pal Carrie.
Laura explains in plain english how to meal plan.
My friend Jim from Rubbermaid posted an audio you just have to hear about how to get organized around the house.
Ivy teaches us how to max the use of our fridge and lessen food waste.
Mandi guest posted at SimpleMom and debunked some organizing myths for us.
And finally there are classifieds for parents of special needs children to find or get rid of supplies.