We carved our pumpkins – and we went old school (sort of). Nothing fancy-schmancy, just typical jack-o-lantern faces.
Here's Little Dude helping scoop out the insides. He had fun getting all messy.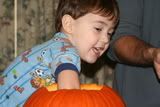 And here is hubby carving – yes folks, he's using the Dremmel!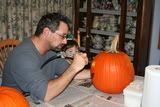 And here are the final results, along with a little pumpkin Little Dude painted earlier in the week.
No I have a nice big bag of roasted pumpkin seeds that I've been snacking on for these past few days!